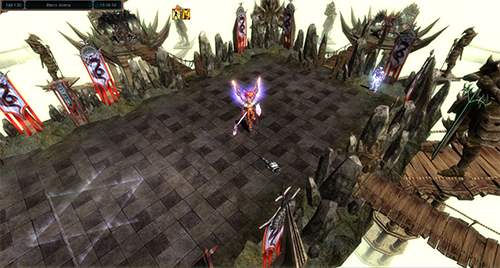 Game client has been updated. All players need to auto-update via Launcher. To get the auto-update, close the game, close Launcher and start it again. If you have problems with auto-update, you can manually download and install the
Patcher
, it must be unpacked in the folder with the game client, replacing all of the suggested files.
At the end of Bless Arena there is a new top-spot with Ghost Warriors. When killing other players in the area of the spot PK Count does not increase, and if you die and you have no jewels in the inventory you character will respawn on the closest star to the spot. We have created the best conditions for tough competition to level-up on the best spot in BA. In addition, we have updated all current spots in Bless Arena, amount of monsters on every spot is now equal, and monsters significantly grew in their ranks.
Locations Losttower and
Atlans
are now Non-PvP zones, both on regular and VIP servers. Dungeon and Valley of Loren are now zones of free PvP. Dark Lord's Summon ability can no longer teleport phonomans with 25 kill or more to locations: Losstower, Atlans, Tarkan, Icarus, Aida and Kanturu.
The maximum amount of Battle Guards simultaneously placed on Castle Siege has been reduced from 100 to 10. Archer's damage has been increased from 4% to 10% of target's Max.HP, Spearman's from 8% to 20% of the target's maximum health. We have fixed problems with /stadium command and crown's reset when switches are quickly intercepted between guilds.
There is new formulas of additional combo damage for each class:
DW: ENE + Max.Mana/2
DK: STR + Max.HP/10
ELF: STR/3 + AGI/2 + ENE/3 + DefenseSuccessRate x3
MG: STR + ENE
DL: STR + ENE/2 + COM
Old default formula:
STR/2+AGi/2+ENE/2
for each class.
Agility stat has been deleted from most of the formulas, now to maximize combo damage you will have to sacrifice defense and attack speed. Agility is already and overly effective stat. Items +Mana will now be useful for mages, +HP for warriors and Defense Success Rate for elfs.
The formula for Mana Shield damage absorption has been changed. Now the percentage scales from Energy and Max.Mana. The maximum possible percentage has been increased from 30% to 35% and can be achieved with approximately 80k Mana and 32k Energy. The duration of the buff has been reduced and depends on Energy. Minimum 60 seconds and maximum 220 seconds at 32k Energy.
If Magic Gladiator did not attack anyone for 10 seconds, his first attack on any target will cause triple damage.
Elven buffs: Heal, Greater Defense and Greater Damage now scale not only from Energy, but also from maximum amount Mana for the most part. In general, the buffs became stronger overall, and with items +Mana Elfs can get significant boost. In addition, when Elf applies Damage or Defense buff on their summoned monsters, it stays on them permanently.
We have fixed a number of errors when, in some cases, players did not receive points for participating in the Team Deathmatch Event. Party Leader is now restored correctly if he had reconnect for less than 2 minutes. You won't see 6 people party bug anymore. Experience calculation has been fixed in situations when you are in a party and other party members are out of sight.
It is important to understand that balance formulas are never final. Especially we want to draw your attention to the Combo formulas. To test different builds, the cost of resetting the stats on the site is temporarily set to 1 Bonus. We test within a week, after which there will be additional adjustments.
In the second part of the update, there will be a complete rework and new Ancient sets, new Dungeon farm zone and other interesting novelties.